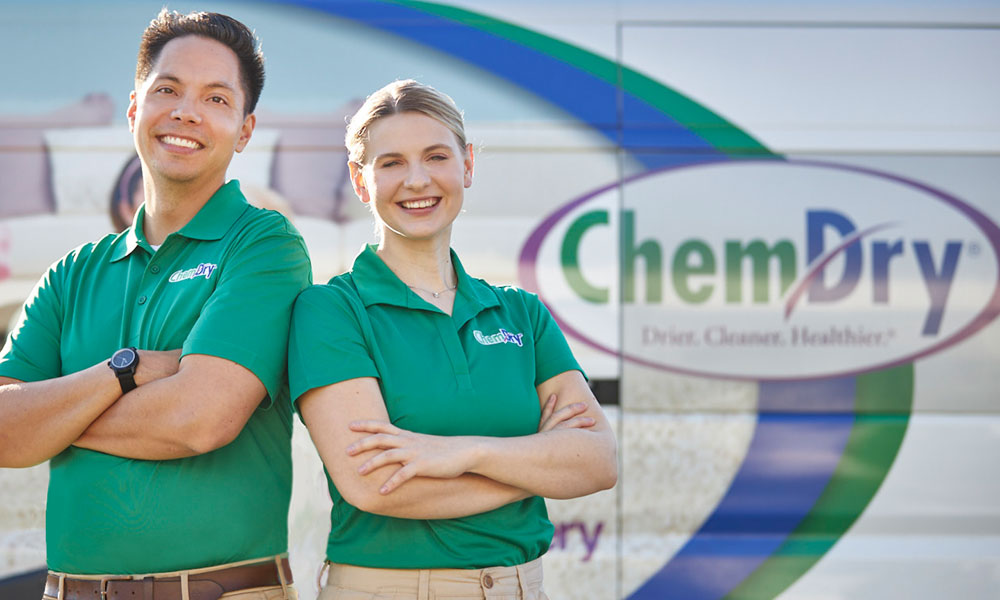 Commercial Cleaning Services in Mississauga
A healthy work environment helps make productive employees. Give your employees and customers the best experience at your place of business by keeping it clean with our commercial cleaning services. We offer some of the best commercial carpet cleaning in Mississauga, Oakville, Milton, Brampton, and the surrounding area.
First time cleaning discount: $0.35 cents per square foot
Second time cleaning discount: $0.30 cents per square foot
Free spot removal treatment: One day spot removal treatment, up to 10 spots
Continued benefits: For cleanings scheduled every six months, $0.29 cents per square foot
You will be surprised by our results. We can clean your carpets, restore your granite, clean your tile and do much more. We are also committed to using green-certified cleaning products so you can know that your office will be safe for everyone after we've cleaned and restored the surfaces in your office or workplace.
We Offer Disinfecting with up to 90 Days of Protection™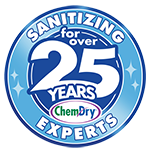 In today's world, we know that a safe and healthy environment in your home or business is more important than ever. That's why Green Leaf Chem-Dry now offers our new MicroPro Shield service; to give you the peace of mind that your home is healthier and safer for longer.
Our professionally-trained technicians will treat the surfaces of your home or business with an EPA-registered disinfectant - disinfecting both hard surfaces and soft surfaces.
Using state-of-the-art electrostatic equipment, our technicians apply a protective antimicrobial coating to surfaces that were disinfected, inhibiting the growth and spread of microbes (algae) on contact for up to 3 months.2
---
About Our Commercial Carpet Cleaning Services
Chem-Dry is the perfect commercial carpet cleaning choice for businesses of all sizes – from small local businesses to multi-location operations.
Whether you're operating an office, a retail store, or any other type of commercial space, Chem-Dry delivers a deeper, healthier clean for your customers and employees. At the same time, we'll work with you to ensure cleaning doesn't interfere with your day-to-day business activities.
Our state-of-the-art equipment and detergent-free cleaning solutions are ideal for commercial carpet cleaning. Chem-Dry cleaners remove deep-seated dirt, grime, and stains from carpets, while using a fraction of the water used by steam cleaning. And unlike commercial steam cleaners, we leave no soapy residents behind.
The result? A professional carpet cleaning service that delivers carpets that dry faster and stay cleaner for longer!
Carpet Cleaning for Office, Retail, and Commercial Spaces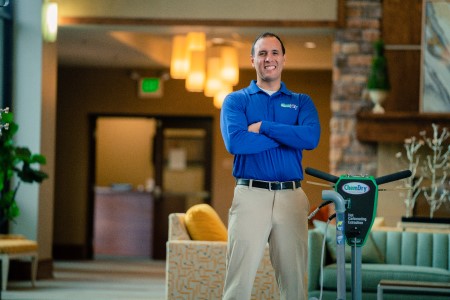 Whether you need a one-time cleaning to get ready for a special event or a regular maintenance plan customized to your business, Chem-Dry can help! Our trained technicians can handle everything from the smallest local job to the biggest and most challenging national jobs correctly and on time.
Here are some of the ideal business types for our commercial carpet cleaning service:
Offices and office buildings
Convention Centers
Theaters
Churches
Department stores
Medical practitioner offices
Schools and classrooms
Senior living facilities
Restaurants
Worker Cubicles
Hotels and motels
The Chem-Dry Difference
What makes the Chem-Dry Hot Carbonating Extraction cleaning process different from other methods, such as steam cleaning? Rather than soaking your carpets with gallons of water and soapy detergents, we use the natural cleaning power of carbonation.
Our unique process uses millions of microscopic bubbles to clean carpets. These bubbles reach deep into carpet fibers to lift the dirt within. Stains, soil, and grime are brought to the surface and whisked away by our powerful extraction equipment.
This process uses about 80% less water than traditional steam cleaning. As a result, your carpets will dry in just a few hours. This way, your business can get back to normal operations with minimal downtime.
Commercial Furniture and Upholstery Cleaning
Our revolutionary Hot Carbonating Extraction cleaning process can do more than just carpets! You can count on Chem-Dry to deliver the same deep clean for your furniture and upholstery. Not only will this create a cleaner, healthier space for your employees and customers, but regular cleaning also helps to extend the life of your upholstered furniture.
---
Don't forget. When looking for the best commercial services in Mississauga, Green Leaf Chem-Dry is the best choice. Call today for a free estimate.
Get a Free Commercial Cleaning Quote Today!
Contact us to get a free quote for your commercial cleaning needs. Green-Leaf Chem-Dry in Mississauga can make your office look like new.