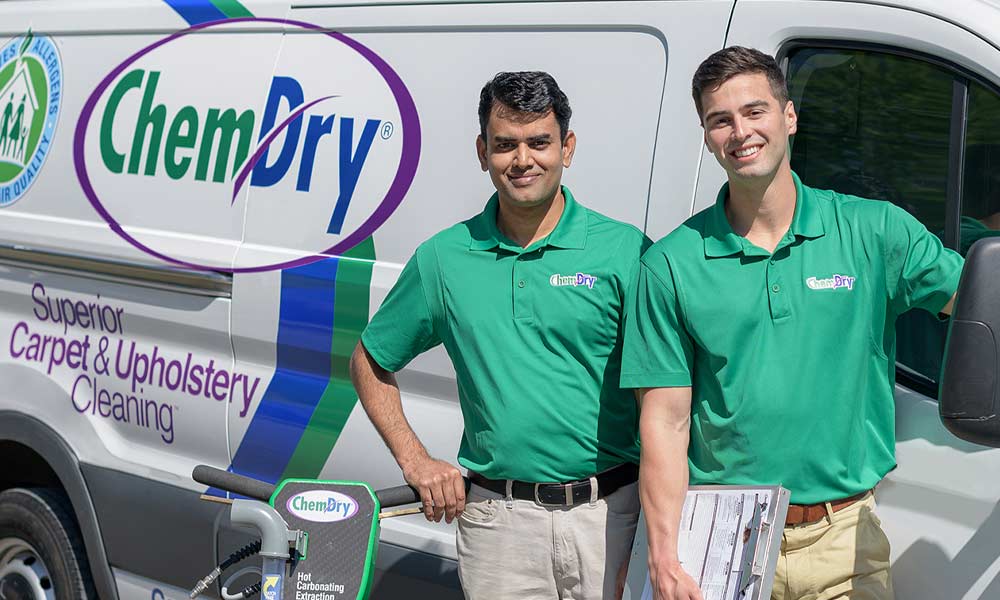 Professional Carpet Cleaning in Oakville, ON
Need Professional Carpet Cleaning Services in Oakville?
Tim & Amy A. are the proud owners of Green Leaf Chem-Dry. We use the power of carbonation to extract more dirt and soil from your carpets, giving them a deeper clean. Our goal is to help our customers live healthier lives by providing you with clean carpets and a healthier home. We take pride in being a local carpet cleaning company that our customers rely on to deliver an amazing cleaning experience at an affordable price! Our deep and healthy carpet cleaning service is sure to exceed all of your expectations. We're able to remove almost any stain from carpets in Oakville. Our motto is "If we can't get it out, no one can!"
Why Chem-Dry?
You might be wondering why work with us over any other carpet cleaner in Oakville. One of the biggest advantages of Chem-Dry is that our cleaning equipment and solutions use a fraction of the moisture that most traditional steam cleaners use, about 80% less water to be specific. Prolong the life and performance of your furniture and carpets with routine professional cleaning. The experts at Green Leaf Chem-Dry will help you maximize your investment with fast and efficient service that delivers quality results. 
Quick Cleaning for Oakville
The secret to Green Leaf Chem-Dry's clean, is the millions of microscopic, carbonating cleaning bubbles in our cleaner we call The Natural®. The awesome cleaning power of the carbonating solution creates a powerful reaction that deep cleans your carpets and upholstery in a safe and gentle way. Chem-Dry's primary carpet cleaner contains no soaps, detergents or surfactants. You can save money when your carpet stays cleaner longer. Less carpet cleaning means a better bang for your buck and one less thing on your "to do" list.  If you care about using green products in your home and protecting the environment, Green Leaf Chem-Dry is your choice of carpet cleaner in Oakville, ON.
Schedule Your Carpet Cleaning Today!
Contact us to get a free quote and request a service appointment. We'll discuss your needs, provide you with a no-obligation quote and can begin the cleaning process at your convenience.